KPFK Chapters
Kids Playing for Kids is excited to continue its long term mission of having the foundation expand to as many chapters as possible around the world. If you are interested in starting a chapter please contact us.
Tavrytzky
Phoenix, AZ
Jan grew up in Washington State playing sports. He is a graduate of the USAF Academy and flew the F-16 in the Air Force, South Carolina Air National Guard, and Luke Air Force Reserves. Jan is currently a Boeing 777 Captain flying internationally for FedEx.. He is married to the lovely, Venita, and has twin boys, Tyler & Tanner, graduates of Yale University and now in the Air Force & Space Force. Jan has coached youth sports for over 12 years in soccer, football, and lacrosse taking many teams to championships. Venita is a wife and mother of their twin athletes. She graduated with a marketing degree from the University of Arizona and worked in sales for one of the first cellular companies. They have lived in Phoenix since 2000.
Feder
Tucson, AZ
Bradley Feder a Tucson native graduated with a Bachelors Degree in Management Information Systems from the University of Arizona in 1987. Immediately following graduation, Feder and long time friend and business partner Joe Cracchiolo, co-founded Cracchiolo & Feder, Inc. Together they created RightFAX, now the world-leader in network-based fax server software. Feder & Cracchiolo partnered with Mike Bernstein and created successful ventures Simply Bits, LLC and Nextrio, LLC. Brad and his wife Anita enjoy staying heavily involved in the community through various organizations. Married since 1996 to his beautiful wife Anita, another Tucson native and graduate of the University of Arizona with a marketing degree. They have two wonderful kids, Brennen and Alexis. Anita worked in sales for a nationally recognized bottled water company for almost 5 years and is currently the CEO of her home.
Terlizzi
Colorado Springs, CO
Coach Garth grew up in Lawrence, Kansas playing football, baseball, and golf. Garth graduated from the Air Force Academy in 1990 and flew F-16s in the US Air Force and US Air Force Reserves for over 19 years. Currently, Garth is a pilot for Southwest Airlines. Garth has over 10 years experience coaching youth football and soccer. Garth is married to his lovely wife, Stephanie, and they have 4 sons (Garth III, Trevin, Tucker, and Talan). Garth and his family have spent the last 15 years in Phoenix, Arizona, but recently moved to Monument, Colorado. Garth is looking forward to expanding the Kids Playing For Kids program to the Colorado Springs area!
Elerick
Nashville, TN
Jim and Julie met at her father's church in Mansfield Ohio 26 years ago and have been married for just over 21 of those years. Jim served 6 years in the Army National Guard as a Combat Medic earning his Air Assault Badge and 2 Army Commendation Medals. He currently works at CentiMark Corporation and just recently celebrated 20 years of employment. They co-founded the Arlington Lacrosse Club four years ago and Jim is an active lacrosse coach in Nashville TN. Julie has been a licensed cosmetologist for 20 years and manages the many affairs of a very busy household. Together they parent four wonderful children. Christopher is proudly serving in the Marine Corps and stationed in Okinawa Japan and enjoys coaching youth football, Micah is attending his first year at Lee University in Cleveland TN and plays a number of intramural sports, Caleb is a junior at Pope John Paul II High School and Abigail is an 8th grader at Knox Doss Middle School. Over the years their children have participated in soccer, baseball, football, competitive cheer, rugby and lacrosse. The two youngest both currently play lacrosse. They look forward to the opportunity to connect kids with other kids that may otherwise not be able to participate in a sport. Their hope is that the kids involved would benefit from the lifelong relationships and learning experiences this opportunity creates.
Waites
Memphis, TN
Mike and Emily met in high school in Irmo, SC while attending the same church and youth group. Mike, a graduate of Auburn University, and Emily, a graduate of Presbyterian College, just celebrated their 14th anniversary. They have two sons, Braddock and Abram, who dearly love baseball and basketball. Mike gets to help assistant coach their baseball teams when he isn't flying 777s for FedEx or working with the Tennessee Air National Guard. Emily, a former schoolteacher and honor graduate from Presbyterian, is a wife, mom, and vocalist/pianist at their church who has to work hard to keep all 3 of her boys straight and on time for all the activities! Ever since leaving the active duty Air Force in 2017, they have made Memphis their home and love it!
Coughrans
Castro Valley, CA
Ryan and Janel live in Castro Valley, CA with their two sons, Philip and James. Ryan is a software engineer and Janel is in education. After teaching for several years, she now enjoys being a substitute and volunteering as much as possible with her sons' schools and the local little league. The Coughrans are avid baseball fans and happily share their cheering between the Giants and Mariners (and occasionally the Pirates as little league has made Philip a fan). They will also be welcoming their first exchange student in the fall. We're excited to be a part of an organization that encourages kids to help each other, be thoughtful of one another, and include everyone.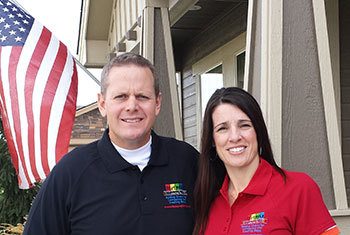 McKernan
Boise, ID
Bill and Rebekah met at the University of Sioux Falls in South Dakota and after graduation were married 30 years ago. They are the proud parents of three children and one dogs (Sam). Their oldest son Blake is a partner in their family business, daughter Erin will be graduating from Boise State University this year and youngest son Sean is in the Air Guard in Colorado while attending the School of Mines in Golden! Currently Bill owns Concrete Craft of Treasure Valley a decorative concrete business and Rebekah is a Team Lead and realtor for Own Boise. The entire family is active with a great start up church in their community and serve with the children's ministry. Bill also continues to coach youth sports in Idaho since moving from Arizona. Bill and Rebekah grew up playing sports and have a great appreciation to the life lessons that children can experience being part of a team sport. They have lived in the Boise, Idaho area since 2011 as we had previous lived in Arizona for many years.
Averill
Puyallup, WA
Randy and Sary-Jo Averill are passionate about honoring God and serving children. They have been married since 1978 and have been blessed with four remarkable children – two daughters and two sons, all of whom are out of the nest. They also have two adorable grandsons in California that they would like to spend more time with. Both graduated from Western Washington University: Randy with a degree in Business and Computer Science and SJ with a degree in Spanish and Elementary Education. Randy is now retired from his IT career and operates a mobile pet grooming business; he is also on the board of a non-profit serving Ethiopia, where their sons were born. Sary-Jo is a paraeducator in the Puyallup School District and plans to retire in 2024.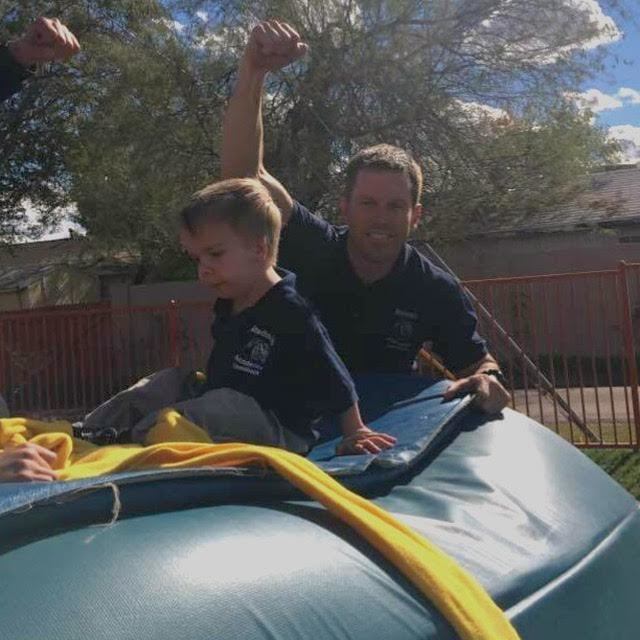 Danny Starkins
Phoenix, AZ
Coach Danny Starkins was a three sport varsity athlete in football, soccer, and baseball at Thunderbird High School in Phoenix, Arizona. Coach Danny continued his athletic career playing football at Central University of Iowa, and then Baseball at Scottsdale Community College. Currently, as an Instructional Coach, Athletic Director, and after school Special Recreation Coordinator at AmeriSchools Academy on Camelback he promotes health, nutrition, and wellness to inner city youth. As well, Coach Danny trains teenage athletes in strength, conditioning, and nutrition at high schools, and at all age levels in club sports. He dedicates his life in supporting our youth in reaching their all-round full potential academically and physically.
-Courage is being nervous and scared, and then moving forward anyhow.
Woodbury
Phoenix, AZ
Ray is a P.E. teacher at Milestones Charter School in Phoenix. He is in his third year and has created a sports program for the school from the ground up. He has been coaching at the junior high level for the last 15 years in various sports. Prior to being at Milestones, Ray was a paraprofessional in a special education classroom during the day while running the schools' after school sports program. Ray is a strong believer in sportsmanship and pride for oneself and others. Ray grew up playing multiple sports while traveling the world as a child of Air Force parents. He believes that the opportunity for growth through sports should be afforded to all children since sports is truly a worldwide language.
Fleming
Gainesville, GA
Ryan and Kari Fleming met as cadets at the United States Air Force Academy and married after graduation while both serving as C-17 pilots. They are devoted parents to their two school-aged children, Jaden and Rayson. Kari is a Lieutenant Colonel in the USAF and has served as a White House Fellow, C-17 Squadron Commander and as Secretary of Defense Executive Fellow. Ryan serves as a Lieutenant Colonel in the USAF Reserves, a FedEx pilot and as President and Founder of the Fleming Financial Group, LLC as the "Pilot's Advisor." Their family mission is: To serve our family, friends and community in order to spread kindness, advance culture and elevate those in need. The Fleming family has enjoyed competing in football, soccer, rugby and basketball.
Smith
Long Island, NY
Nicole is an executive at a major biotech company and is a former Peace Corps volunteer. She has a degree in biochemistry from the University of Washington and a masters degree in public health from UCLA. Patrick is from Garden City, New York where he grew up playing lacrosse. He attended the US Naval Academy where he also played lacrosse. Patrick is now a 767 captain at FedEx Express. He founded his lacrosse club, Silverfin Lacrosse, in 2007 and has been instrumental to the growth of quality lacrosse in California and on the west coast. They are now enjoying their time watching their kids excel in the lacrosse mecca of Long Island where Patrick grew up.
Vijums
Minneapolis, MN
Mark and Robin are former coaches and parents of three daughters with a passion for sports. Their three daughters played volleyball, hockey and lacrosse. Prior to the girls, Robin was the IT consultant for a radiologist group and then attained a part time position as Human Resources Director for our church. After graduating from the Air Force Academy, Mark got his pilot wings and retired after 25 years as a Colonel. He currently flies for Delta Air Lines. Both parents grew up playing multiple sports and realize the developmental advantages and life skills sports bring to children. It is their hope that offering this same opportunity to kids who are challenged, will give them a new perspective and balance in their lives.
Jones
Seattle, WA
Roe and Pam love living in the Northwest. Roe attended the USAF Academy, and Pamela attended the University of Oregon. Roe was a pilot for the USAF, Horizon Air, and is now privileged to be flying for FedEx. He enjoys working on his property, and volunteering at school and sports. Pam enjoys being a full time mom, flight attendant for Alaska Airlines, Girl Scout leader and classroom coordinator. They both take great pride in their role as foster parents. They have four children and one foster child. Their greatest love is spending time as a family. Their children have participated in many sports over the years, and they all appreciate the value in being part of a team. They are honored to be associated with an organization that promotes the ideal of service to others before self.
Beth & Brenna
Columbia, SC
Beth and Brenna are both teachers at Harbison West Elementary School in Columbia, South Carolina. Beth has taught special education for 14 years, working primarily with students on the Autism Spectrum. This is her tenth year working with preschool students. She is married with two little girls. Brenna has been teaching 5th grade for 13 years. During the 2015-2016 school year, Beth and Brenna, teamed up to create Project Au-Some. Brenna's students, the Big Buddies, volunteer their recess time to plan and execute lessons to teach preschoolers, the Little Buddies, important developmental skills. Since 2015, Beth and Brenna have been giving professional development and teaming up with other teachers to help build community, empathy and acceptance through social skills within their district's schools.
Stefanie Lee
Honolulu, HI
Stefanie grew up in Hawaii and is a graduate of the University of Hawaii at Manoa. She flew the KC-135 in the Hawaii Air National Guard and is currently in the Air Force Reserves and a 777 pilot for FedEx. While flying, she also worked as a part-time speech pathologist for 15 years, enjoying the last nine years working at Kaiser Permanente. She has a daughter, Calista, who is a 6th grader at Punahou School. Stefanie and Calista love skiing, swimming, hiking and playing golf. They are excited to help the foundation share its aloha to the children of Hawaii.
Gration
Anchorage, AK
Jonathan and Julie Gration moved to Alaska in 2009 and decided to plant deep roots and grow their family in The Last Frontier. Jonathan transitioned from Active Duty in 2012 and began a career flying for FedEx and continues to serve in the Air Force Reserves as an F-22 pilot, currently the deputy Group Commander. Julie is a full-time Mom for their twins, Jack and Madeline, and the 176th Medical Group Commander in the Alaska Air National Guard. Jonathan and Julie met while they were both Cadets at the Air Force Academy, Julie being a Varsity tennis player. They are active in the community and enjoy everything outdoors including camping, hiking, fishing, sailing, flying, and all sports. Jack enjoys playing football, baseball, basketball, and soccer. Madeline loves volleyball, tennis, and soccer. You can also find us skiing in Girdwood, Alaska most weekends through the winter!
Abels
Spokane, WA
The Abels live in Spokane, Washington and are long-time supporters of KPFK. Their company, Imaginary Trout provides in-kind web development and IT consulting services. In addition to supporting KPFK Josh donates his in support of Spokane Riverkeeper as the Board Chair & President, Spokane Falls Trout Unlimited and Fighter Country Foundation. Britt and Josh enjoy the great outdoors camping with their Chesapeake, world travel and routine exercise by hoof, on bike or on the snow activities.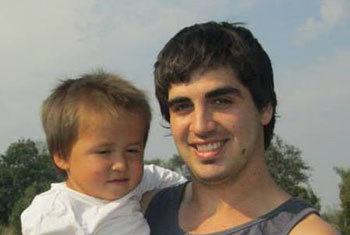 Fuentes
Santiago, Chile
Mauricio Fuentes recently graduated with a law degree at Finisterrae University. He worked as volunteer for 3 years in a "Trabajo en la Calle" founding (2010-2013). The foundation's mission is encourage savings in families living in camps through community organization. Mauricio also worked for 2 months in 2013 on a study of lawyers "Vicuña y Cia,", particularly on issues Law of Transit. He also assisted in international law classes in college as a professor's aid. In 2012 Mauricio spent two months as an intern in Ponta Grossa, Brazil where he taught Spanish lessons and Chilean culture to children who lived in an orphanage.
Sodero
Milan, Italy
Paolo is a former Italian Air Force pilot, who had the honor and the fun to attend pilot training with Coach Tav; together, they learned how to fly the T-38, how to sing accompanied by a guitar and how to safely cook various type of meat and tagliatelle.
After that Paolo flew the Tornado for a few years, then became an airline pilot with Alitalia; he met then Elena, sweetest chief cabin attendant ever qualified in Alitalia.
They live in Cameri, west of Milan; Paolo and Elena are pretty busy in the management of the house and 4 busy children; they also help in the "Cameri Calcio", a Soccer Association with more than 200 little athletes. The "winning in life" concept is strictly applied.